"The average gives the world its substance,
the excepional gives it its value."    Oscar Wilde
Making uppers for high-quality custom shoes is our real strength, because here we can bring all the old expertise of our family of almost 100 years. This provides our customers with a rich selection of high quality options.


Models
All classic models, elegant lace derby, timeless Full Brogue Oxford, King George and Ankel boots, golf shoes as well as sporty sneakers and other models are among our repertoire. As well as hand-sewn moccasins, boat shoes with drawstring, pumps, high heel sandals, boots ...

Also, the implementation of extraordinary ideas is a challenge for us that we not only like to ask, but that we are looking for. So we also like to implement your own designs or the designs of your customers.


Our customers can choose from over 200 upper leathers! Such a variety can hardly be offered by a single custom shoemaker. Payment is only for the exact consumption of the respective order, which saves our customers considerable costs in purchasing. In our well-stocked warehouse, we not only have a variety of different nappa leathers, but also premium Aniline Boxcalf from Perlinger, French Boxcalf, Scotchgrain, Hunting, Calf and English Cordovan. For lovers of exotic leather, we offer beautiful salmon leather, ostrich leg leather and other exclusive items with a beautiful look and feel. Leather from reptiles and sharks we DO NOT offer and do not process them!

Upper leathers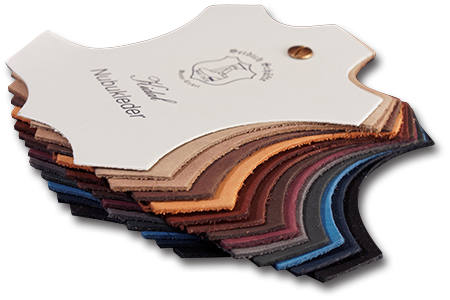 Lining
Also for lining we have a range of different leathers. From light lamb nappa, over buttery soft cow leather up to strong sweat firm lining leathers for rough footwear. We prefer to use leather from pure vegetable tanning.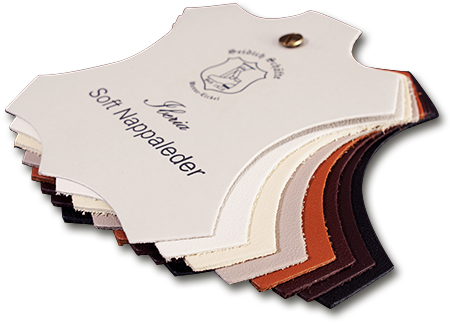 To this day, we manufacture all models according to the method of the great-grandfather, a combination of the geometric system according from the German Shoemaker Robert Knöfel in 1865 and the Last Copy System from the American Uppermaker C.B. Hatfield from 1890, which we achieve a good fit accuracy. But we are also happy to work according to your own patterns.
The cutting / clicking takes place exclusively by hand. As a result, we "feel" the structures in the leather, recognize faults and determine the optimum pulling direction.

Bespoke work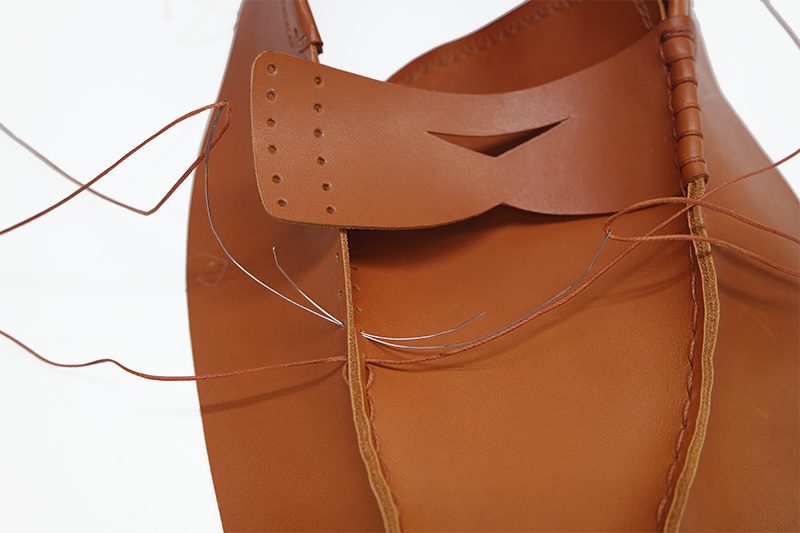 The uppers are sewn on Adler-Dürkopp M-Type sewing machines (in our opinion, the most accurate sewing machines) and, as you wish, with round-head or sword-stitching needles.
Of course, it is very time-consuming to produce in pure handcraft and higher quantities would inevitably lead to quality losses. Therefore, we have limited our production to a maximum of 7 pairs per day. These include, depending on the nature of the work, only one or two pairs of uppers for bespoke shoemakers. So we achieve a quality that meets the high demands of our customers.

Our work is our only advertisement!
We live from satisfied regular customers, which could prove a reference list well. Not least at the request of our customers, but also from our own understanding of privacy and discretion, we do not provide information about the cooperating with us workshops or even about their partly prominent clientele. Even photos whose uppers are not published by us.

Sewing patterns made by us always remain in our workshop and are added to the model archive of the respective customer. So reordering is quick and easy even by phone call, fax or email possible.
Picture Galery
Service

Contact

Sustainability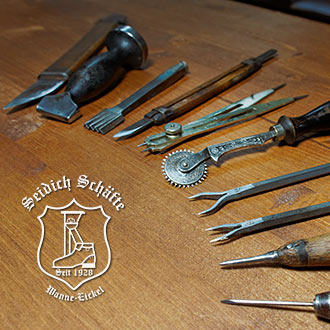 On request, we offer in-house workshops and intensive courses for uppers to small groups of four participants. You acquire a basic understanding and exercise basic steps in making uppers. Since 2011 we have been teaching the master students of the orthopaedic shoe technique in producing uppers at the Chamber of Commerce in Düsseldorf.
Tel.: +49 (0) 2325 - 56 96 56