"We are responsible for what we do
but also for what we do not do"  Jean-Baptiste Molière
Shoes made from our uppers should provide comfort and wear for as long as possible. This is due not only to our high quality standards, but by our integrated philosophy of the shoes as a whole, not just a sum of their parts:
We do not use leathers from endangered or threatened species.
We do not use reptile or shark skins, even if provided by the client.
We only use high quality materials
We source our materials and leather exclusively from within Europe, preferably from German and English suppliers.
We do not outsource any work to low-wage countries. Our entire production takes place in our Wanne-Eickler workshop.
We do not process prefabricated components. Everything is made individually for each order by hand.
Carbon Neutral production
We are one of the first companies to be 100% supplied with renewable electricity and we support the further development of renewable energy.

The best method to manufacture as climate neutral as possible is to use little energy. This is easy for us, because we manufacture everything by hand, do not use digital scanners, laser cutters and the like. Our work and office spaces are energetically insulated so that they do not have to be cooled by air conditioning.

We compensate for the remaining, unavoidable CO² emissions through projects that are certified according to the Gold Standard and are implemented in Uganda in cooperation with the "Klima ohne Grenzen" (Climate Without Borders) organization.

Carbon Neutral shipping
We ship your uppers climate neutral. To our customers within the Europe with "UPS-carbon neutral", to our overseas customers with "DHL-go green". The additional fees paid support projects such as reforestation, destruction of methane and landfill gases, and wastewater treatment, which offset the emissions caused by the shipment's shipment.

Wherever possible we use recycled papers. We ship our uppers in re-used cardboard boxes. Our packaging tapes are made of 100% recycled plastic. Our website is hosted in the Cloud with 100% climate-neutral hydropower.
Sustainable engagement
We are proud of our craft and work for its preservation. Also, we train and pass on our expertise to the next generation through workshops, lectures and courses at the Chamber of Crafts, Düsseldorf.

We support nonprofit organizations and worthwhile causes with a portion of our net profits. We plant trees over "Plante for the Planet" and support forest projects in Venezuela, Peru and the Eifel, as well as the organization "Elmeere" on the North Sea island of Föhr. (see: engagement)
Service

Contact

Sustainability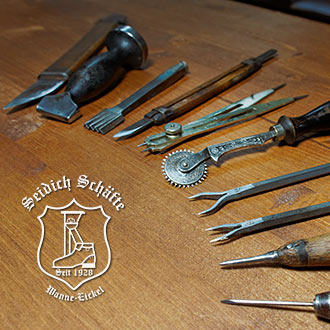 On request, we offer in-house workshops and intensive courses for uppers to small groups of four participants. You acquire a basic understanding and exercise basic steps in making uppers. Since 2011 we have been teaching the master students of the orthopaedic shoe technique in producing uppers at the Chamber of Commerce in Düsseldorf.
Tel.: +49 (0) 2325 - 56 96 56